7 Apps For Teachers To Work With Special Needs Children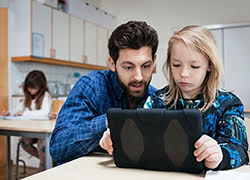 As a teacher in special education, it is common to face everyday challenges now and then, but for remote learning, it is proving to be more difficult. Students with special needs have different needs that are very unique than the other, which is why a personalized focus always seems to be a giant priority.

These days since it's all about technology, teachers are learning how to integrate and utilize all its benefits to make the most out of each readily available tool.

Most significantly, now that we are to rely on the online learning environment entirely, alongside Individualized Education Program (IEP) support, and e-learning based training for special education teachers, the use of digital apps can be beneficial to customize curriculum and provide personalized guidance to our special needs students.
List of 7 digital apps for teachers to work with special needs students:
▶ 1. Rufus Robot
▶2. FizzBrain
▶3. LetterSchool
▶4. Choiceworks
▶5. Proloquo2Go
▶6. Epic!
▶7. Zone of Regulation
Find out more about these 7 apps and how it can benefit special needs students –
1. Rufus Robot
Learn with Rufus is a series of tablet apps for kids with special needs. These apps are very much suitable for students who are autistic or will advantage from emotional supportive tools – emotional, behavioral, or intellectual disabilities. The activities on this platform include numbers and counting, feelings and emotions with fun games.
2. Fizz Brain
The Sound Out Machine app is beneficial for learners with difficulty in decoding. An app that is very effective to help special needs students listen and correct difficult words and model how to pronounce words by breaking syllables. This app is useful for classroom setup as well with its feature to work with textbooks. A student just needs to take a snap of a page, the app picks up challenging words from the entire page and allows students to recognize and learn them separately.
3. Letter School
LetterSchool is an app for young learners to learn literacy and numeric skills. Children learn about alphabets – their formation, spelling, phonics, counting, and other skills that are taught in kindergarten and preschools. This app is considered to be a safe environment for children without the distractions of ads and social media. The app also helps to develop eye-hand coordination and motor skills within children.
4. Choice Works
An app that can be used as a great tool for students to help them complete daily routine, understand and control feelings and develop patience with improved waiting skills. An app with key features such as schedule board, waiting board, and feelings scale – is designed to provide support to encourage children's independence, emotional regulation and foster positive behavior can also be customized for teachers in school environments.
5. Proloquo2Go
Special needs children with speech difficulty (autism, cerebral palsy, down syndrome, aphasia, apraxia, or traumatic brain injury) can benefit from this app to improve their communication skills and language development. Though this app is a bit pricey, it focuses on augmentative and alternative communication solutions, and its features allow flexibility and a customizable range of speech and accent makes it more realistic for students to match their inner voice.
6. Epic
Epic! is a resourceful app in the form of an e-library. This app is of great help for those reluctant and struggling learners. With 20,000+ books and educational videos, it has a wide variety of both fictional and non-fictional assorted high-quality children's books collection. Epic! is offering free access to the school I this unprecedented time, which is great news for many teachers.
7. Zone of Regulation
This app has been designed for both young learners as well as adults. The Zone of Regulation a framework for thinking and its curriculum offers students to gain conscious behavioral regulation. By using a cognitive behavioral approach, it allows emotional management thereby making it easier for students to learn self-control and increase their problem-solving skills.

Digital tools can bring a lot of effectiveness in learning when teachers can use them carefully to foster achievement gaps. Getting well-equipped to facilitate a learning environment for special needs students can be challenging irrespective of whether you are teaching in an inclusive classroom or in online settings. One thing is for sure that they need special attention no matter what. This somehow confirms SEN training for teachers is an essential part of every teacher's journey.

Teaching and learning during this unprecedented time is definitely raising a lot of questions for teachers, parents, and even for all our students, especially for special needs students complications seem to be overwhelming oftentimes. Not to mention, the transitions in itself already is a heavy burden on these children. With all of this in mind, we need to ensure patience to adapt to this new dynamic. Conclusively training for special education teachers to help them navigate technology can be both productive and resourceful.