Occupational Therapy: From Tactile to Digital!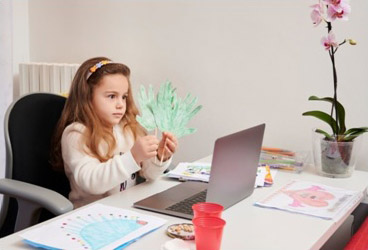 Have you ever been overwhelmed by the thought of your teacher being ahead of you in a classroom?

Let me tell you it can be a very strange feeling when you have no clue about the events that will happen later. You can be someone struggling with ADHD and the only obstacle coming your way is access to a therapist that will make your core strong and will reduce the number of challenges you face as a learner every day.

Occupational therapists provide help to children who are unable to process information in a developmentally normative approach.
What is Occupational Therapy?
When an individual find any ask challenging or lacks any strategies to handle a current situation, occupational therapy provides tools to the box creating an opportunity for a person to self-advocate and become independent. The job of an occupational therapist is to provide assistance who are facing problems with fine and gross motor skills, visual, oral, and sensory processing, developmental delays, social interactions, balance, coordination, learning challenges, and play.
But from the time the Covid-19 pandemic hit the United States, most occupational therapists have failed to help and assist students in person — and have had to completely modify their procedure of working. The changes or modifications are quite challenging as maximum children with special needs largely depend on the inspection of parent /caregiver to help them with tech tools or even to just be there to concentrate during remote education.
TECH TRANSITIONS
In the time of digital tools, another thing that has gained popularity is assistive technology tools like voice recognition software. These tools have traditionally only been part of an OT's toolbox, which mainly depends on more commonplace objects, like crayons and Play-Doh. Now, with the additional duty of connecting with kids at home, OTs have had to shift to a new set of tools like XP-PEN, Google Jam board, and Boom Cards to keep students learning.
Many other therapists use video to guide students and caregivers to perform activities online that were once demonstrated in person. Some therapists use Google Hangouts or Zoom to look after students using traditional worksheets and curriculum, like Handwriting Without Tears, Fine Motor Boot Camp, and Tools to Grow, and others are trying out new tech tools.
WORKING WITH PARENTS
Considering the fact that many students taking occupational therapy are very young and may face attention and cognitive deficits or behavioural issues, assisting students through their activities in a remote or hybrid learning setup often requires the active participation of a caregiver.
According to Brittney Harvey, an occupational therapy assistant working with public school students, in communities with a lower income, sound technology and the guidance of a parent or caregiver are not always available.
Though these challenges can be quite difficult to solve, it is recommended to communicate with parents on weekly basis through newsletters, email, or at times through videos with information about the schedule of the therapy, the things that parents should gather from before, and the objectives for the week.
EVOLVING THE WORK
We can conclude that occupational therapists, through the process of innovation and adaptation, can bring improvement in the way occupational therapists connect to and support their students in the future. According to a therapist "Having to be innovative and think on your feet is one silver lining from this whole thing,"
This increased dependence on new tools, for example, has bound schools to turn tech-savvy—and better resourced—which may improvise the options that OTs have for both in-class group interventions and remote teaching emergencies in the future.Special needs teaching courses online will help!
Though it has been concluded that virtual education has been less effective than traditional in-person education, according to therapists, stronger relationships have been established with many families because of the increase in communication and alliance with them. And this new alliance between therapists and parents indicates that families now have a better understanding of the proceedings at school!